FLYTREX - THE MULTIROTOR PILOTS NETWORK
LOG AND ANALYZE - COMPLETE MISSIONS - EARN BADGES - FIND NEARBY PILOTS - FLY WITH FRIENDS
Designed just for the DJI Naza-M V1, V2, Lite and the Phantom, the Flytrex Core is a complete flight tracker system. Storing flight data including speeds, altitude, temperature and distance on a micro SD card. Once your mission is finished you can use the Flytrex.com Service to view your Mission Manager, Unlock Badges and Challenges, track mission records and stats for each of your multirotors and quadcopters, and connect with nearby pilots to compare flights.
The Must Have for Multirotor Pilots! Please visit FlyTrex.com for more info.
What is it?
Flytrex is similar to a black box on an airplane. It records your flight data! It also allows your to take challenges and complete online missions with other Flytrex users around the world!
Mission Manager
Get detailed display of every mission you complete. Interactive path map, speed, altitude and temperature graphs, personal records tracking and more. Assigning aircraft and gear with each mission you post helps you analyze flight results with different aircraft and help other multirotor pilots learn more about your setup and hobby.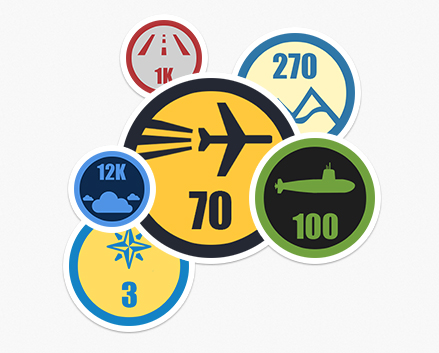 Badges and Challenges
Earn badges as you complete challenges and build up your Flytrex profile. Unlock badges for challenges such as speed, ascent, altitude, diving, world wide traveling, and more! Unlock new badges as you complete more missions and improve your skills. New challenges are added all the time - be sure to send us your cool ideas!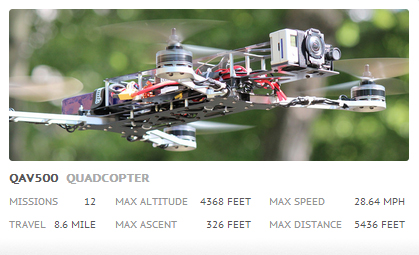 Aircraft and Personal Records
Use aircraft manager to track mission records and stats for each of your multirotors and quadcopters. Personal Records book helps you analyze your personal improvement over time and best results. Easily see and share your best flight achievements with friends.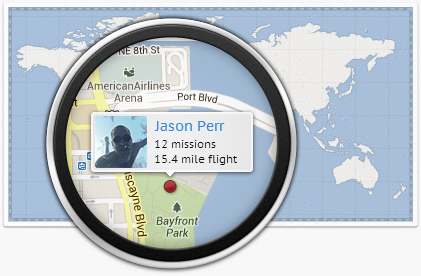 Nearby Pilots with World Map
Find other multirotor and quadcopter pilots flying nearby using the globe map showing recent flights activity world-wide. Consult with local pilots when traveling and find exciting new scenery for your next adventure! Use our Explore tool dedicate search to find recent missions by location and aircraft.
What's Required
Flytrex Core requires the DJI flight controller and the DJI GPS component. Flytrex Core supports the following DJI flight controllers: Naza-M v1, Naza-M v2, Naza-M Lite and the Phantom Quadcopter.
30 Seconds Installation
We love simple things, so we worked hard to design the simplest installation possible. Flytrex Core installation connects seamlessly with your flight system, no soldering is required, just plug&play.
Disconnect your GPS from your Naza flight controller.
Connect the GPS to the Flytrex Core board. The GPS can be connected to any of the two slots on the Flytrex Core, it doesn't matter which one.
Connect the 4-Pin Cable to the remaining free slot on your Flytrex Core on one side and to the GPS slot on your Naza flight controller on the other side.
Installation Using Phantom Cable
You need this cable if you have a Phantom.
How to Install the FLYTREX on your Phantom
How to install the FLYTREX on a Phantom 2 Vision
Due to the unique shell structure of the Phantom Quadcopter, installing Flytrex in a Phantom using the default 4-Pin Cable is impossible. To solve this, we designed the special Phantom Cable that allows easy installation and mounting of Flytrex in a Phantom Quadcopter.
Carefully open your Phantom shell. This is outside the scope of this manual, but there are plenty of online videos showing how this should be done.
Disconnect your GPS from your Naza flight controller.
Connect the GPS to the Flytrex Phantom Cable female socket - the only one available in the cable.
Connect the male socket on the same side of the cable to your Naza flight controller GPS slot.
Connect the other side of the Phantom Cable to one of the Flytrex Core slots. It doesn't matter which one. The other slot should remain empty.
Flytrex Core Micro SD
Flytrex Core records your flight details to a micro SD (card not provided with package). You can use any micro SD between 1GB to 32GB formatted with 16FAT or 32FAT - so most micro SD cards will work right from the box. 1GB gives you approx 40,000 minutes of flight recording.
Game Changer
Get complete flight mission stats, personal records, challenge yourself, earn badges, find nearby pilots and share your experience with the world!